Uploadhelper
| | |
| --- | --- |
| | What is uploadhelper ? |
Uploadhelper is a small Java applet/plugin, that allows site users to upload their files much easier.
Minimum Java version required is 1.5, current latest version can be downloaded from www.java.com. To check your currently installed java version, go to http://www.java.com/en/download/installed.jsp and click the button "Verify Java version".
Uploadhelper looks like a simple button and button's text informs you about what will happen when you click the button:
Upload file - you have copied in a file (pressed CTRL+C while a file was selected) and Uploadhelper can help you upload that file with a few clicks.
Very useful if your don't want to spend time browsing to the file again when you already have it in your view.
Upload image - you have just made a screenshot or copied in an image from a graphics program.
Uploadhelper makes the upload of such images much easier: one click to initiate uploading, then confirm with image preview and the image is already uploading :)
Usually this process would consist of opening a graphics program for a new file, pasting image there, saving to some convenient place, browsing it, uploading it and later deleting it.
Uploadhelper also provides you with basic image editing tools: resize, crop, rotate, flip, flop.
Clipboard empty - you haven't copied in neither an image nor any files.
In addition, Uploadhelper lets you upload files also by dragging them onto the button.


NB! Since this applet need additional rights to be able to access your clipboard for checking and also for accessing files from your disk for uploading, it has been signed and on the first run you are asked to either accept the signature or not. Without accepting the signature the applet will not work since it cannot check your clipboard not read files to upload them.


Most browsers require only one time verification, but Opera browsers asks for verification every time after you have closed browser, unless you go to security tab in verification dialog and tell opera to remember your choice.
Because of that verification dialog for more rights, the applet is loaded into the page only after you click "Send image/file from clipboard" and not before.

Example of loaded Uploadhelper:




Example of image preview before uploading: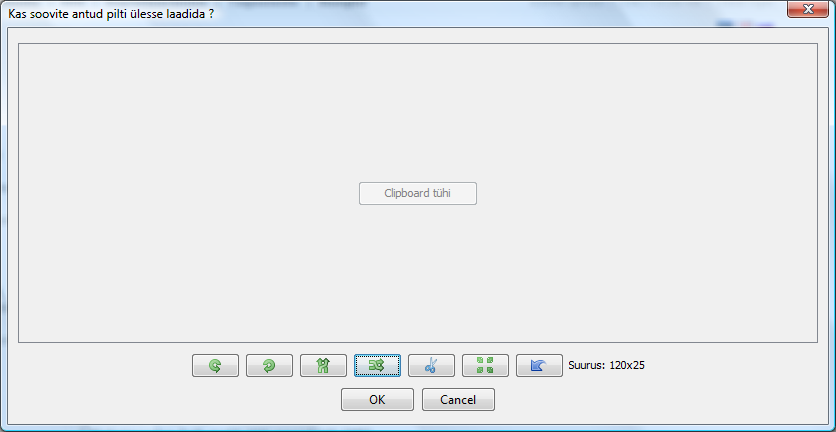 Example of file upload confirmation: